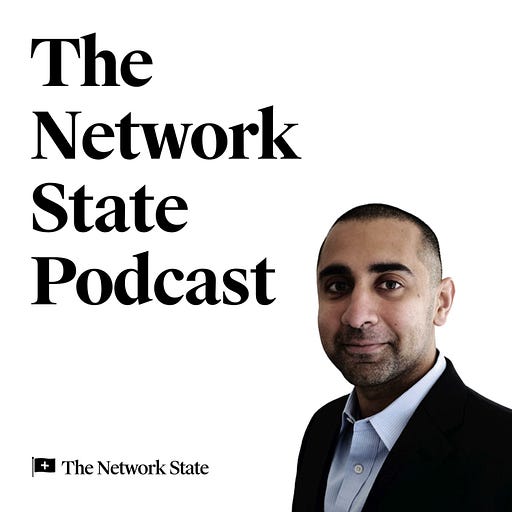 Jun 22 • 50M
#4 - The Winklevoss Twins and Balaji
What comes after Google, Facebook, Bitcoin, and Ethereum? Perhaps it's the startup country — the network state. Balaji interviews tech founders and policymakers from around the world on managing billions of dollars and millions of people, as well as what it might take to start a new kind of state.
Tyler and Cameron Winklevoss talk with Balaji about how Washington, DC is losing crypto, while other countries like the UAE and Japan are winning web3.
OUTLINE
0:00 - I'm 6'5", 220, and there's two of me!
0:58 - Crypto flippening from America to Asia
7:15 - Crypto-friendly jurisdictions in the US: Wyoming, Tennessee
8:10 - The SEC is a failed regulator
18:45 - Crypto-friendly jurisdictions worldwide: Japan, Hong Kong, Dubai, El Salvador
27:31 - Winklevosses expanding in India
33:25 - What comes out of crypto?
35:45 - Flashback to 2013 TechCrunch Disrupt
37:01 - Crypto and AI, without the buzzword bingo
44:14 - The Winklevoss city
LINKS
1) Gemini: https://www.gemini.com/careers
2) Wyoming DAO law: https://legalnodes.com/article/wyoming-dao-llc
3) Tennessee DAO law: https://www.natlawreview.com/article/beyond-reasonable-daoubt-tennessee-s-limited-liability-statute-decentralized
4) UAE Virtual Asset Regulatory Authority (VARA): https://www.vara.ae/en
5) Japan Web3 support: https://www.coindesk.com/policy/2023/04/06/japan-releases-web3-white-paper-to-promote-industry-growth-in-the-country
6) 2013 TechCrunch with Balaji, Naval, Winklevosses: https://techcrunch.com/2013/09/10/disrupt-sf-13-bitcoin-panel
VIDEO
YouTube: https://youtu.be/STbYujxjk1E
SOCIAL
https://twitter.com/cameron
https://twitter.com/tyler
https://twitter.com/balajis
https://thenetworkstate.com